---
The Thinking Student's Guide to College
75 Tips for Getting a Better Education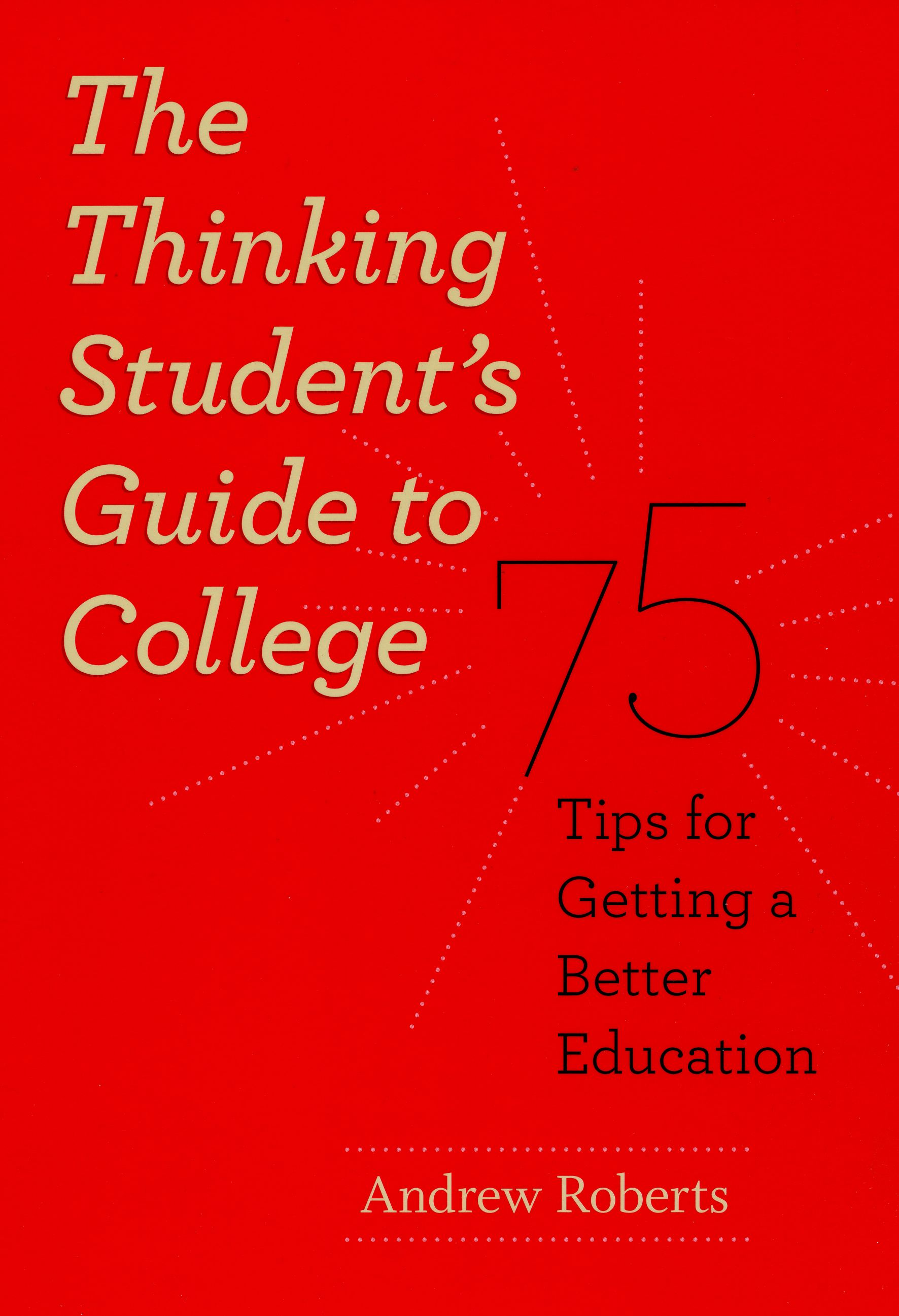 184 pages | 2 tables | 6 x 9 | © 2010
Each fall, thousands of eager freshmen descend on college and university campuses expecting the best education imaginable: inspiring classes taught by top-ranked professors, academic advisors who will guide them to a prestigious job or graduate school, and an environment where learning flourishes outside the classroom as much as it does in lecture halls. Unfortunately, most of these freshmen soon learn that academic life is not what they imagined. Classes are taught by overworked graduate students and adjuncts rather than seasoned faculty members, undergrads receive minimal attention from advisors or administrators, and potentially valuable campus resources remain outside their grasp.
Andrew Roberts' Thinking Student's Guide to College helps students take charge of their university experience by providing a blueprint they can follow to achieve their educational goals—whether at public or private schools, large research universities or small liberal arts colleges. An inside look penned by a professor at Northwestern University, this book offers concrete tips on choosing a college, selecting classes, deciding on a major, interacting with faculty, and applying to graduate school. Here, Roberts exposes the secrets of the ivory tower to reveal what motivates professors, where to find loopholes in university bureaucracy, and most importantly, how to get a personalized education. Based on interviews with faculty and cutting-edge educational research, The Thinking Student's Guide to College is a necessary handbook for students striving to excel academically, creatively, and personally during their undergraduate years.

Michael Koppisch, Michigan State University
"Andrew Roberts has a light touch, gives students excellent advice, and writes in a direct, engaging style. What I find particularly interesting is the perspective from which he counsels students, that of a serious academic who seems fully dedicated to his profession despite what he sees as its flaws and who knows his way around a university. A student who took his tips to heart could hardly go wrong, for Professor Roberts' advice is based on good, solid academic values."
Michael McPherson, President of the Spencer Foundation, former president of Macalester College
"The Thinking Student's Guide to College addresses a neglected topic with force and persuasiveness. This valuable book, aimed at high achieving students at selective universities who want to get a quality education, offers genuinely practical advice. By addressing students directly, drawing on his experience and observations in academic life, Andrew Roberts provides an accessible and credible account of how to make college a valuable experience educationally."
Harry Brighouse, University of Wisconsin
"Every selective college offers a high quality academic experience to the student who knows how to get it, but none give you a map, let alone instructions. Andrew Roberts has written the perfect travel guide to the best things on offer: an undergraduate who took just a third of his advice would double the value of her time in college. Every prospective freshman should read this book, and every parent of a prospective freshman has to read it. Easy and fun to read, with pages of advice."
Crooked Timber
"In fact I don't currently have a copy of the book, because each copy I get goes to the next high school senior who walks through the door (which an alarming number of them seem to be doing these days). As suggested by this, 75 Tips would be a great Christmas present for the college-bound high school seniors and college freshmen of your acquaintance."
Lynne O'Shaughnessy | U.S. News and World Report
"I want to nominate a book for this summer's college reading lists that I think represents the best possible selection: The Thinking Student's Guide to College: 75 Tips for Getting a Better Education. Andrew Roberts, an assistant professor of political science at Northwestern University, wrote this great book that can help students squeeze far more value out of their college years than any other book that I've read."
Contents
Introduction
1 How Universities Work
2 Choosing a College
  Tip 1 You Can Get an Equivalent Classroom Education at All Reasonably Selective Colleges and Universities
  Tip 2 The Key Distinction Is between Small Colleges and Large Universities
  Tip 3 Reputation Doesn't Matter as Much as You Think
  Tip 4 The Main Importance of Reputation Is the Student Body It Attracts
  Tip 5 Look for Signs of a Personalized Education
  Tip 6 Consider the Cost
  Tip 7 Differences in the Strength of Particular Departments Are Not Usually a Good Basis for Choosing among Colleges
  Tip 8 Consider the Different Varieties of General Education Programs
  Tip 9 Don't Worry; Most Students Are Happy with Their Choice
3 Choosing Classes
  Tip 10 Consider Visiting Mul  Tiple Classes during the First Week of the Semester
  Tip 11 Usually Trust Your First Impressions
  Tip 12 Go for Variety, Especially Early On
  Tip 13 At Least Once a Year Pick a Class That Doesn't Seem to Fit Your Interests
  Tip 14 Take Classes with Heavy Writing Requirements
  Tip 15 Take as Many Seminars and as Few Large Lecture Courses as Possible
  Tip 16 Take Mostly Upper-Division Courses
  Tip 17 Focus More on Methods than Topics
  Tip 18 Seek Out Classes That Provide You with Continuous Feedback and Take the Feedback Seriously
  Tip 19 Know the Status of Your Professors
  Tip 20 Learn to Be a Critical Reader of Student Evaluations of Faculty
  Tip 21 Ask Professors You Know What Courses They Would Recommend
  Tip 22 Take Courses That Relate to Each Other
  Tip 23 Study Abroad for at Least One Semester if Not an Entire Year
  Tip 24 Don't Succumb to the "Two Cultures"
  Tip 25 Don't Try to Get All of Your General Education Requirements Out of the Way in Freshman and Sophomore Year
  Tip 26 Audit Classes That You Don't Have Time to Take
  Tip 27 Consider Independent Study Classes
  Tip 28 Don't Take Too Many Classes with One Professor
  Tip 29 Don't Be Afraid to Exceed Requirements
  Tip 30 Unless You Plan to Major in Chemistry or Biology, Leave Medical School Requirements until Later
  Tip 31 Either Take Foreign Language Classes Seriously or Try to Place Out of Them
  Tip 32 Be Discerning in Choosing Internships for Credit
  Tip 33 Take Prerequisites with a Grain Of Salt
  Tip 34 Consider Graduate Courses
4 Choosing a Major
  Tip 35 Sample a Lot of Different Departments
  Tip 36 Choose a Major That You Love
  Tip 37 Find Out What You Are Good At
  Tip 38 Don't Worry Too Much about the Job Prospects of the Major
  Tip 39 Choose Smaller Majors
  Tip 40 Choose More Structured Majors
  Tip 41 Go to an Academic Lecture Given in the Department
  Tip 42 Be Skeptical about Double or Triple Majoring
  Tip 43 Write a Senior Thesis
  Tip 44 Don't Get Too Stressed Out over Your Choice
5 Being Successful
  Tip 45 Manage Your Time
  Tip 46 Show Professors That You Are Working Hard
  Tip 47 Join a Small Study Group
  Tip 48 Ask for Help
  Tip 49 Don't Let Your Instructors Suspect That You Are Taking Advantage of Them
  Tip 50 Learn the Rules of Critical Thinking and Apply Them Constantly
  Tip 51 Professorial Shortcuts for Writing
  Tip 52 Professorial Shortcuts for Doing Research
6 Interacting with Professors
  Tip 53 Be Respectful
  Tip 54 Be Curious about the Subject
  Tip 55 Visit the Office Hours of All Your Professors at Least Once
  Tip 56 Get to Know at Least One Professor Well
  Tip 57 Find Out What Your Professors Research
  Tip 58 Send E-mails Judiciously, Answer E-mails Promptly
  Tip 59 Avoid Complaints about Grades
  Tip 60 Become an RA
  Tip 61 Ask for Recommendation Letters from Professors Who Know You Well
7 Learning outside the Classroom
  Tip 62 Get Involved in Extracurricular Activities
  Tip 63 Subscribe to an Intellectual Magazine
  Tip 64 Read Academic Blogs
  Tip 65 Attend a Public Lecture Every Week
  Tip 66 Spend Your Free Time in Coffeehouses
  Tip 67 Make Friends with People Who Have Different Beliefs and Experiences
  Tip 68 Get to Know Foreign Students
8 Going to Graduate School
  Tip 69 There Are Seldom Strong Reasons to Go to Graduate School Immediately after College
  Tip 70 Learn More about the Career Graduate School Is Heading To
  Tip 71 Graduate School Is Not Just Advanced Undergrad
  Tip 72 Ask Your Professors' Advice about PhD Programs in Their Field
  Tip 73 PhD Programs Are Not for Training Teachers
  Tip 74 Prestige Does Matter for PhD Programs
  Tip 75 Talk to Current Grad Students
9 Secrets of the Guild: Rules Professors Live By
  Rule A Reduce Thy Teaching Load
  Rule B Publish or Perish
  Rule C Pamper Grad Students
  Rule D Limit the Effort You Devote to Undergraduates
  Rule E Play the Market
Acknowledgments
Recommended Reading
Index
For more information, or to order this book, please visit http://www.press.uchicago.edu
Google preview here