---
Organizing Schools for Improvement
Lessons from Chicago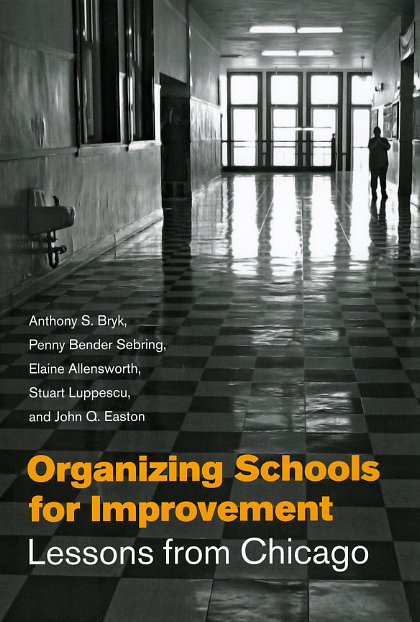 328 pages | 72 line drawings, 11 tables | 6 x 9 | © 2009
In 1988, the Chicago public school system decentralized, granting parents and communities significant resources and authority to reform their schools in dramatic ways. To track the effects of this bold experiment, the authors of Organizing Schools for Improvement collected a wealth of data on elementary schools in Chicago. Over a seven-year period they identified one hundred elementary schools that had substantially improved—and one hundred that had not. What did the successful schools do to accelerate student learning?
The authors of this illuminating book identify a comprehensive set of practices and conditions that were key factors for improvement, including school leadership, the professional capacity of the faculty and staff, and a student-centered learning climate. In addition, they analyze the impact of social dynamics, including crime, critically examining the inextricable link between schools and their communities. Putting their data onto a more human scale, they also chronicle the stories of two neighboring schools with very different trajectories. The lessons gleaned from this groundbreaking study will be invaluable for anyone involved with urban education.
Charles M. Payne, Frank P. Hixon Professor in the School of Social Service Administration, University of Chicago
"Let us hope this book redirects our attention to what really matters in urban education. Beneath the numbers, there is a fundamentally optimistic view of the potential of urban schools. The authors give us every reason to believe that understanding the organizational and cultural dynamics of schools can help us make them better, much better. If we attend to this work as we should, it can be a game-changer."
Ellen Guiney, Director of the Boston Plan for Excellence
"This book will advance everyone's thinking about key ideas in school improvement. I was excited by the authors' willingness to go beyond descriptive facts to find out what specifically distinguishes two different student bodies with similar demographics. What is so important about this book is that it figures out and describes in various ways the vital role social capital plays both inside and outside school."
Alan Borsuk | Milwaukee Journal-Sentinel
"Organizing Schools for Improvement has some pretty convincing conclusions on what characteristics separate successful schools from unsuccessful ones. The book offers important advice for people involved in any school, regardless of location or student background."
Teachers College Record
"Striking in its attention to the influence of community and educator participation in school reform, and sobering in its assessment of some of the neighborhoods where reform was most difficult to attain, the book Organizing Schools for Improvement: Lessons from Chicago is an essential read. . . . Bryk et al. provide a rigorous and compelling empirical study of the possibility for school reform and the degrees of compromise, particularly in contexts where extreme poverty and racial and ethnic isolation prevail."
Contents
Acknowledgments
Prologue: A Tale of Two Schools
Introduction: A Rare Opportunity to Learn about School Improvement
1    Developing Appropriate Outcome Indicators
2    A Framework of Essential Supports
3    Testing the Framework of the Essential Supports
4    Probing Deeper: Organizational Mechanisms
5    Trust, Size, and Stability: Key Enablers
6    The Influences of Community Context
Summary and Conclusions
Appendix A: Socioeconomic Status Factor
Appendix B: A Value-Added Indicator: A School's Academic
Productivity Profile
Appendix C: Overview of the Fourteen Indicators for the Five Essential Supports
Appendix D: Probability Experiment to Evaluate Results Presented in
Figure 3.3
Appendix E: Interview Questions from the Project on Human Development
in Chicago Neighborhoods
Appendix F: Coefficients from Analyses of Leadership in Chapter 4
Appendix G: Value-Added Replication Results for 1997 through
2005
Appendix H: Efforts of the Consortium on Chicago School Research to
Build More Productive Ties between Research, Practice, and Policy
to Improve Practice
Notes
References
Index
For more information, or to order this book, please visit http://www.press.uchicago.edu
Google preview here