---
Extinct Madagascar
Picturing the Island's Past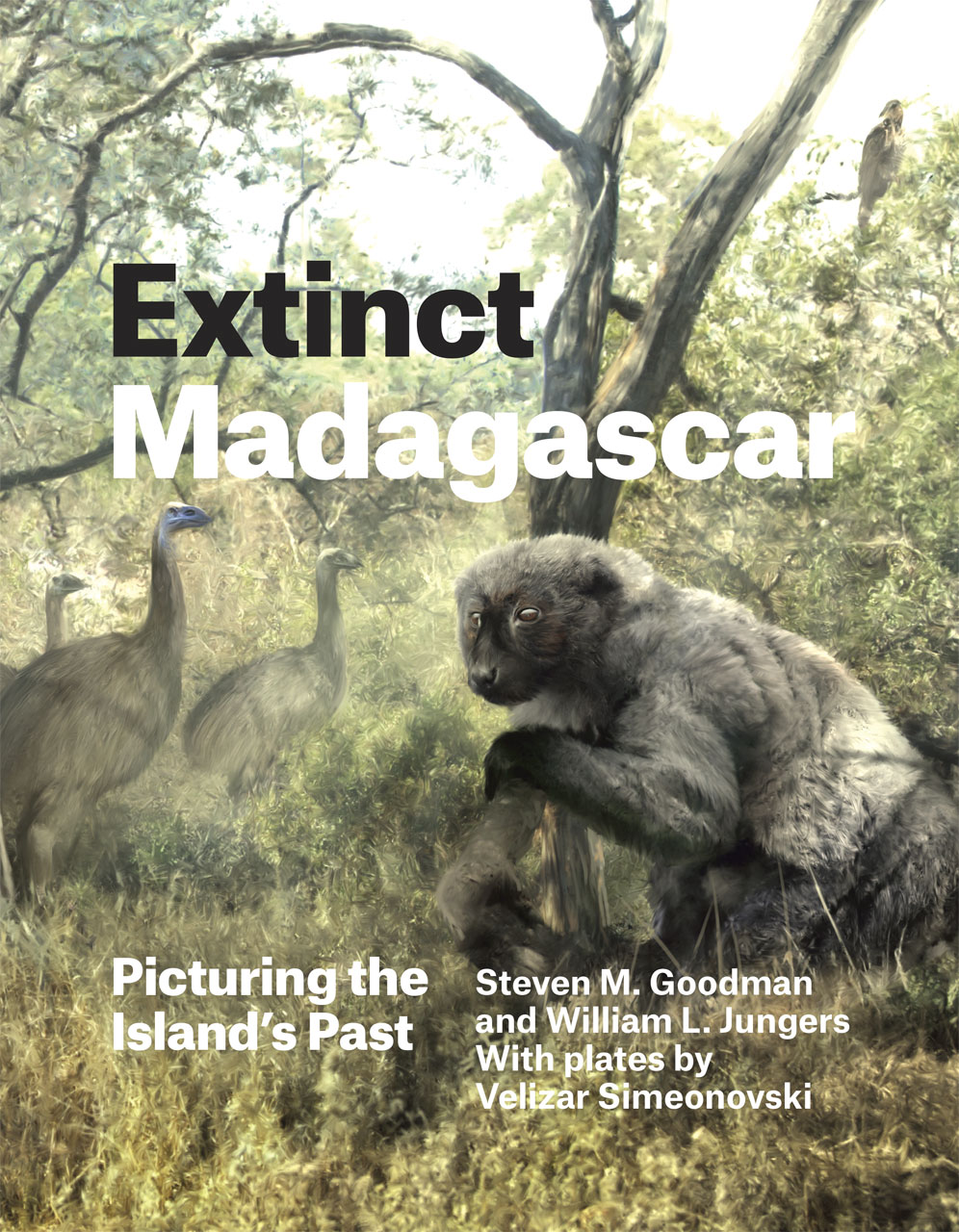 296 pages | 21 color plates, 87 halftones, 12 tables | 8 1/2 x 11 | © 2014
The landscapes of Madagascar have long delighted zoologists, who have discovered, in and among the island's baobab trees and thickets, a dizzying array of animals, including something approaching one hundred species of lemur. Madagascar's mammal fauna, for example, is far more diverse, and more endemic, than early explorers and naturalists ever dreamed of. But in the past 2,500 or so years—a period associated with natural climatic shifts and ecological change, as well as partially coinciding with the arrival of the island's first human settlers—a considerable proportion of Madagascar's forests have disappeared; and in the wake of this loss, a number of species unique to Madagascar have vanished forever into extinction.

In Extinct Madagascar, noted scientists Steven M. Goodman and William L. Jungers explore the recent past of these land animal extinctions. Beginning with an introduction to the geologic and ecological history of Madagascar that provides context for the evolution, diversification, and, in some cases, rapid decline of the Malagasy fauna, Goodman and Jungers then seek to recapture these extinct mammals in their environs. Aided in their quest by artist Velizar Simeonovski's beautiful and haunting digital paintings—images of both individual species and ecosystem assemblages reproduced here in full color—Goodman and Jungers reconstruct the lives of these lost animals and trace their relationships to those still living.

Published in conjunction with an exhibition of Simeonovski's artwork set to open at the Field Museum, Chicago, in the fall of 2014, Goodman and Jungers's awe-inspiring book will serve not only as a sobering reminder of the very real threat of extinction, but also as a stunning tribute to Madagascar's biodiversity and a catalyst for further research and conservation.
Oliver Sacks
"A hauntingly beautiful book."
E. Delson, CUNY Herbert H. Lehman College | Choice
"The modern fauna of Madagascar reflects the country's long history of isolation from Africa (and Eurasia), despite its relatively close proximity. All its primates, for example, are in the broad 'lemur' category, found nowhere else today. Its mammalian fossil record is very short, almost all within the last 5,000 years. But the diversity is high, with seventeen species of extinct 'lemur,' including many far larger in size than their extant cousins. In this volume, zoologist Goodman and paleoanthropologist Jungers present these past denizens of Madagascar to a wide audience. . . . A superb book for all readers, including those for whom Madagascar is unknown. Highly recommended."
Laurie Godfrey | University of Massachusetts Amherst
"Extinct Madagascar is original; there is no other like it. It is data-rich, fabulously illustrated, and has just enough humor to make it fun to read as well as intellectually stimulating. It is not a review of the anatomy or taxonomy of the various taxa, yet it presents sufficient amounts of detail in this regard to make visualization possible. The book also provides a very nice synthesis of cultural, genetic, and paleontological evidence for human arrival—I think the best out there."
Anne Yoder | Duke University
"The extinction (and its causes) of the many subfossil organisms described in Extinct Madagascar is one of biodiversity science's great unsolved mysteries. Goodman and Jungers summarize and present a monumental amount of information pertaining to these species, combining storytelling (descriptive accounts of the scientists involved, of various events and adventures) and marvelous plates with exquisite details of the subfossils and associated metadata to illustrate both the landscape and the organisms of the Holocene epoch in Madagascar. Their literary approach as well as the data reviewed and assembled make for a wonderful addition to the literature. Extinct Madagascar will have broad appeal across disciplines and will be a priceless book for graduate seminar work. I can't wait."
Ian Tattersall, American Museum of Natural History | author of "Masters of the Planet: The Search for Our Human Origins"
"An authoritative and fascinating exploration of one of Nature's greatest evolutionary experiments."
Contents
Foreword
Acknowledgments
PART 1: Madagascar in Perspective: Past and Present
Introduction
            General
            Aspects of Format
            The Artist
Geological Time, Dates, and Radiocarbon Dating
            What Is a Subfossil?
            The Types of Subfossil Sites
An Overview of the Origins, Geology, Animal Colonization, and Modern Habitats of Madagascar
            Madagascar in Deep Time—Isolation and Origin of Its Plants and Animals
            History of Animal Colonization
            Geography
            Geology
            Vegetational Patterns
                        Humid Forest
                        Dry Deciduous Forest
                        Spiny Bush
                        Savanna and Grassland Formations
A Brief History of Climatic Change on Madagascar since the Late Pleistocene
History of Human Colonization of Madagascar
            Considerations of Language and Different Types of Introductions
            The Human Genetic Evidence           
            Evidence of Pre-Iron Age Colonization of Madagascar
            The Archaeological Record of Occupation and Settlement
            Paleontological and Paleoecological Evidence
            Summary
Human Interactions with Now-Extinct Land Vertebrates
            Reptiles
                        Tortoise
            Birds
                        Elephant Birds
            Mammals
                        Lemurs
                        Hippos
Hypotheses on What Caused the Extinctions during the Holocene
Extinction, Conservation, and the Future
PART 2: Case Studies
Geographical Plates
Plate 1: Cap Sainte Marie—the Ecology of Elephant Birds and Their Interface with Humans
Plate 2: Andrahomana I—the Ecology of Extreme Southeastern Madagascar and a Barometer of Change
Plate 3: Andrahomana II—Evidence of a Holocene Tsunami in the Southern Indian Ocean and Predator-Prey Relations
Plate 4: Tsimanampetsotsa—Rapid Ecological Shifts in the Face of Natural Climate Change
Plate 5: Taolambiby—Hypotheses Associated with Animal Extinction and Hunting by Humans: Physical Evidence and Interpretation
Plate 6: Ankilitelo—a Deep Pit Cave and Inferences on Recent Ecological and Faunal Change
Plate 7: Ampoza I—Reconstruction of the Ecology and Fauna in a Formerly Permanent Riverine Habitat in the Southwest
Plate 8: Ampoza II—Ecological Change in a Forest Community and Connecting Humid Forest Corridors to the Eastern Portion of the Island
Plate 9: Belo sur Mer—a Window into Different Hypotheses Associated with Environmental Change: Natural versus Human-Induced
Plate 10: Mananjary—the Former Estuary System of Eastern Lowland Madagascar and Some of Its Faunal Elements
Plate 11: Antsirabe Region—Ecology of Highland Marsh and Forest Habitats as a Measure of Change through Time
Plate 12: Ampasambazimba—Reconstruction of a Montane Woodland Habitat that No Longer Occurs on the Island
Plate 13: Anjohibe I—Secrets of the Past Disclosed by Careful Study of Subfossil Bone and Pollen in a Cave
Plate 14: Anjohibe II—Inferences Based on Cave Remains and Aspects of the Organisms Living in the Adjacent Ecosystem
Plate 15: Anjajavy—a Trapdoor Cave, Ecology of an Extinct Lemur, and Untold Extinct and Extant Biodiversity
Plate 16: Ankarana I—Ecological Change of a Forest Community, a View from the Ground Up
Plate 17: Ankarana II—Ecological Change of a Forest Community, a Bird's-Eye View from the Forest Canopy
Plate 18: Ankarana III—Tragedy and How the Bone Remains of an Extinct Lemur Can Help Piece Together How It Lived and the Former Local Forest Ecology
Species Plates
Plate 19: Cryptoprocta spelea—an Extinct Mega-Predator and Aspects of How It May Have Lived and Hunted
Plate 20: Stephanoaetus mahery—a Presumed Primate Specialist and Its Role in the Evolution of Behavioral Aspects of Living and Extinct Lemurs
References
Index to Malagasy Place-Names
Index to Scientific Names
For more information, or to order this book, please visit http://www.press.uchicago.edu
Google preview here