---
Philanthropy in Democratic Societies
History, Institutions, Values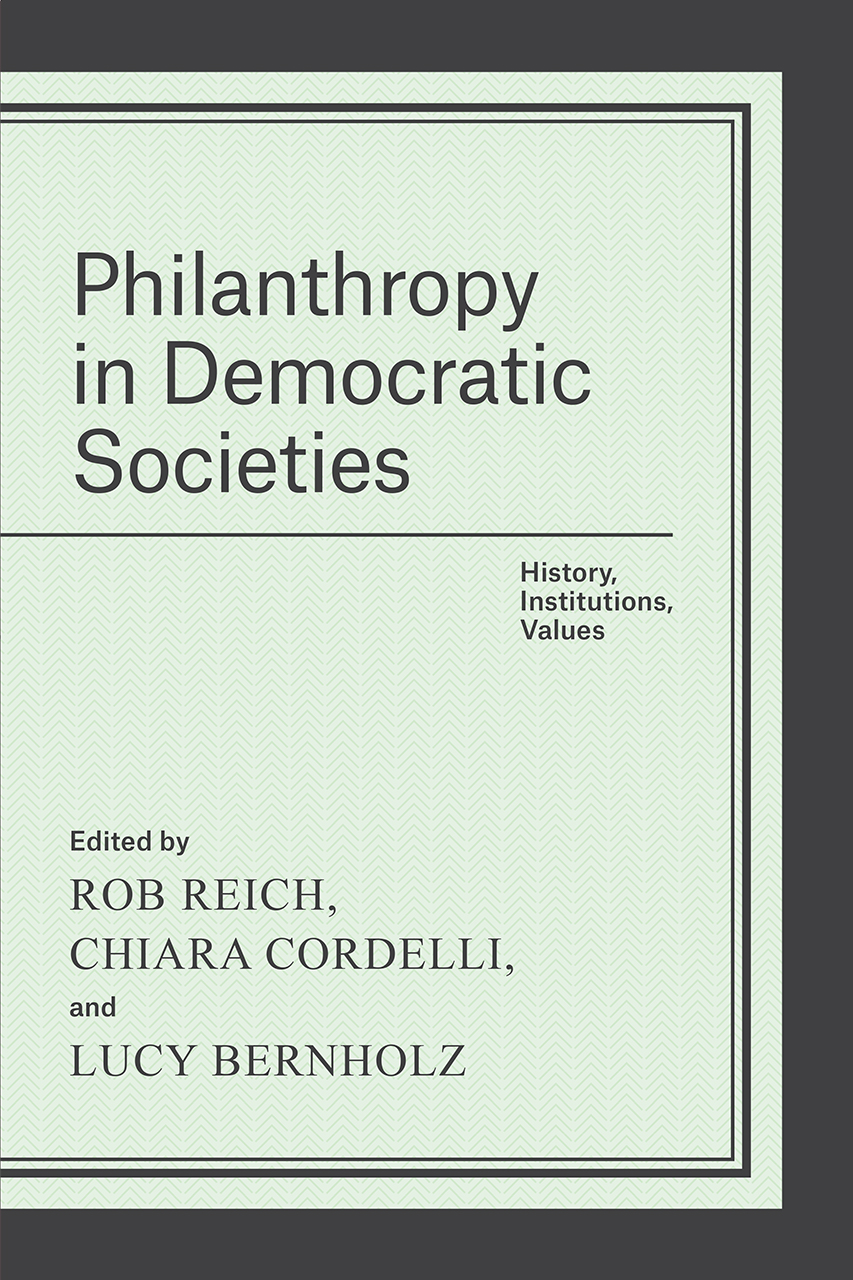 344 pages | 2 halftones, 6 line drawings, 3 tables | 6 x 9 | © 2016
Philanthropy is everywhere. In 2013, in the United States alone, some $330 billion was recorded in giving, from large donations by the wealthy all the way down to informal giving circles. We tend to think of philanthropy as unequivocally good, but as the contributors to this book show, philanthropy is also an exercise of power. And like all forms of power, especially in a democratic society, it deserves scrutiny. Yet it rarely has been given serious attention. This book fills that gap, bringing together expert philosophers, sociologists, political scientists, historians, and legal scholars to ask fundamental and pressing questions about philanthropy's role in democratic societies.
           
The contributors balance empirical and normative approaches, exploring both the roles philanthropy has actually played in societies and the roles it should play. They ask a multitude of questions: When is philanthropy good or bad for democracy? How does, and should, philanthropic power interact with expectations of equal citizenship and democratic political voice? What makes the exercise of philanthropic power legitimate? What forms of private activity in the public interest should democracy promote, and what forms should it resist? Examining these and many other topics, the contributors offer a vital assessment of philanthropy at a time when its power to affect public outcomes has never been greater. 

Table of Contents
Contents
Acknowledgments
Introduction
Introduction / Philanthropy in Democratic Societies
Rob Reich, Lucy Bernholz, and Chiara Cordelli
Part I: Origins
One / Altruism and the Origins of Nonprofit Philanthropy
Jonathan Levy
Two / Why Is the History of Philanthropy Not a Part of American History?
Olivier Zunz
Three / On the Role of Foundations in Democracies
Rob Reich
Part II: Institutional Forms
Four / Contributory or Disruptive: Do New Forms of Philanthropy Erode Democracy?
Aaron Horvath and Walter W. Powell
Five / Reconciling Corporate Social Responsibility and Profitability: Guidelines for the Conscientious Manager
Paul Brest
Six / When Is Philanthropy? How the Tax Code's Answer to This Question Has Given Rise to the Growth of Donor-Advised Funds and Why It's a Problem
Ray D. Madoff
Seven / Creating Digital Civil Society: The Digital Public Library of America
Lucy Bernholz
Part III: Moral Grounds and Limits
Eight / The Free-Provider Problem: Private Provision of Public Responsibilities
Eric Beerbohm
Nine / Philanthropy and Democratic Ideals
Ryan Pevnick
Ten / Reparative Justice and the Moral Limits of Discretionary Philanthropy
Chiara Cordelli
Notes
Bibliography
List of Contributors
Index
 
Review Quotes
Wall Street Journal
"An important contribution to this emerging debate. While most writing on this subject is breathless or cynical, the ten chapters that make up Philanthropy in Democratic Societies, edited by Stanford political scientist Rob Reich, along with Chiara Cordelli and Lucy Bernholz, present a balanced picture of the history, theory, and role of philanthropy."
Alliance Magazine
"Philanthropy involves private persons using power to influence the public realm. To what extent is the exercise of this power compatible with the values of a liberal democratic state? This is the fundamental question that runs through this important and absorbing volume. The authors are an interdisciplinary group of scholars including sociologists, political scientists, historians, political philosophers, and legal scholars. Their essays have a coherence that is unusual in a collection of this kind; well written and accessible, they avoid the trap of disciplinary inwardness that can make such collections indigestible to the lay reader."
 
The Philanthropist
"[A] central point made in the text is that philanthropy is embedded in webs of interaction with various powers, policies, organizations, and cultural norms.... [U]rges us to deepen our thinking about the purpose and place of philanthropy while thought leadership by practitioners offers action strategies to make their field and practice more inclusive and democratic."
Peter Singer, author of The Most Good You Can Do
"Philanthropy in Democratic Societies begins an urgently needed discussion of the ethical questions raised by the changing role of philanthropy in the United States and elsewhere."
Larry Kramer, president of the William and Flora Hewitt Foundation
"Finally! A really good, academic treatment of the political and philosophical underpinnings of philanthropy. Reich, Cordelli, and Bernholz managed to corral many of the best scholars writing and thinking about philanthropy, putting together an illuminating collection of essays (including their own) that draw on history, law, organizational theory, and philosophy to challenge and provoke practitioners to think hard about how we justify what we do. This is indispensable reading for anyone who thinks seriously about the obligations and responsibilities of philanthropy. Actually, it's even more indispensable for anyone who doesn't."
For more information, or to order this book, please visit https://www.press.uchicago.edu
Google preview here