---
The Nature of Paleolithic Art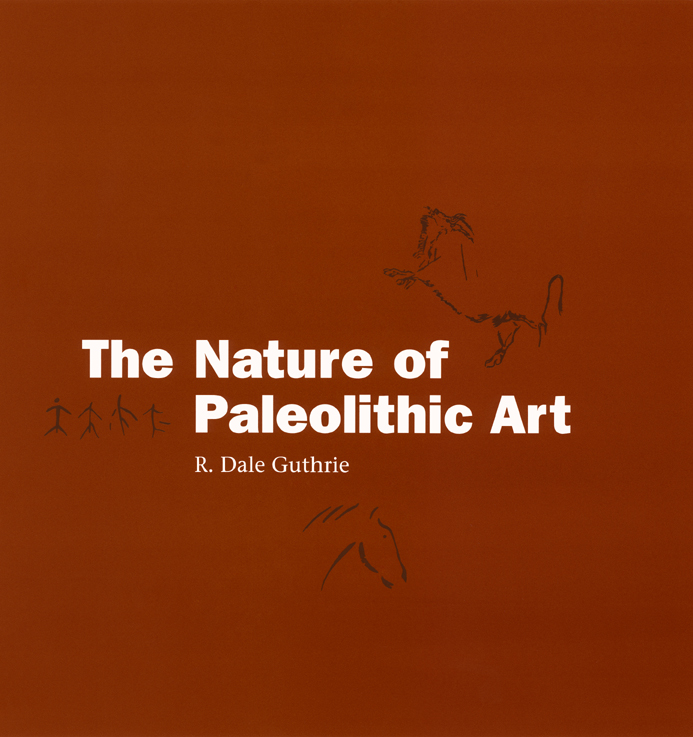 520 pages | 20 halftones, 847 line drawings | 8-1/2 x 10 | © 2005
The cave paintings and other preserved remnants of Paleolithic peoples shed light on a world little known to us, one so deeply embedded in time that information about it seems unrecoverable. While art historians have wrestled with these images and objects, very few scientists have weighed in on Paleolithic art as artifacts of a complex, living society. R. Dale Guthrie is one of the first to do so, and his monumental volume The Nature of Paleolithic Art is a landmark study that will change the shape of our understanding of these marvelous images.

With a natural historian's keen eye for observation, and as one who has spent a lifetime using bones and other excavated materials to piece together past human behavior and environments, Guthrie demonstrates that Paleolithic art is a mode of expression we can comprehend to a remarkable degree and that the perspective of natural history is integral to that comprehension. He employs a mix of ethology, evolutionary biology, and human universals to access these distant cultures and their art and artifacts. Guthrie uses innovative forensic techniques to reveal new information; estimating, for example, the ages and sexes of some of the artists, he establishes that Paleolithic art was not just the creation of male shamans.

With more than 3,000 images, The Nature of Paleolithic Art offers the most comprehensive representation of Paleolithic art ever published and a radical (and controversial) new way of interpreting it. The variety and content of these images—most of which have never been available or easily accessible to nonspecialists or even researchers—will astonish you. This wonderfully written work of natural history, of observation and evidence, tells the great story of our deepest past.
Table of Contents
Contents
Preface: Reassembling the Bones
Note on the Illustrations
1. Drawn from Life
2. Paleolithic Artists as Naturalists
3. Tracking Down the Pleistocene Artists: The Unemphasized Role of Children
4. Testosterone Events and Paleolithic Imagery
5. The Art of Hunting Large Mammals
6. Full-Figured Women—In Ivory and in Life
7. The Evolution of Art Behavior in the Paleolithic
8. Bands to Tribes: The End of the Pleistocene and the Extinguishing of Paleolithic Art
9. Throwing the Bones: Paleolithic Art and the Evolution of the Supernatural
Appendix 1. Paleolithic Handprint Analysis, by Arny Blanchard
Appendix 2. An Intuitive Way to Look at the Hand Biometrics Using Bivariate Plots
Acknowledgments
References
Index

Review Quotes
Nadia Durrani | Times Higher Education Supplement
"A fascinating and compulsive read in which Guthrie harnesses a gamut of anthropological data and rock-art images. Despite this, it is a controversial book."
Paul G. Bahn | Nature
"[The book] provides a great number of interesting insights into the nature and behaviour of the species depicted, including humans, and is undeniably thought-provoking and challenging."
Fossil News
"The Nature of Paleolithic Art will appeal to anyone with a strong interest in the world of the Late Pleistocene, as seen through the eyes of those who were there."
Rebecca A. Farbstein | Archaeological Review from Cambridge
"Guthrie offers numerous provocative hypotheses about the makers of art and its place within the context of Palaeolithic daily life. Proponents of shamanism will likely find much of this monograph incendiary. . . . For all readers, his approachable style makes the book highly readable and at times witty. As the culmination of several decades of work, Guthrie's monograph provides a much needed, original perspective on the 'nature' of Paleolithic art."
Danny A. Brass | NSS News
"An extremely interesting and generally easily readable text. . . . In breaking away from more conventional magico-religious interpretations of Paleolithic imagery, [Guthrie] presents an intriguing vision of our distant ancestors and especially of the role played by a hunting lifestyle in providing the spark that ignited mankind's imagination and released his inherent creativity."
Aldona Jonaitis | Quarterly Review of Biology
"[The book] offers readers fascinating informaiton about and challenging interpretations of Paleolithic art. This book is a good read--Guthrie is an excellent writer--and is based on meticulous scholarship presented in a lively and engaging way."
For more information, or to order this book, please visit https://www.press.uchicago.edu
Google preview here