---
Guerrilla Marketing
Counterinsurgency and Capitalism in Colombia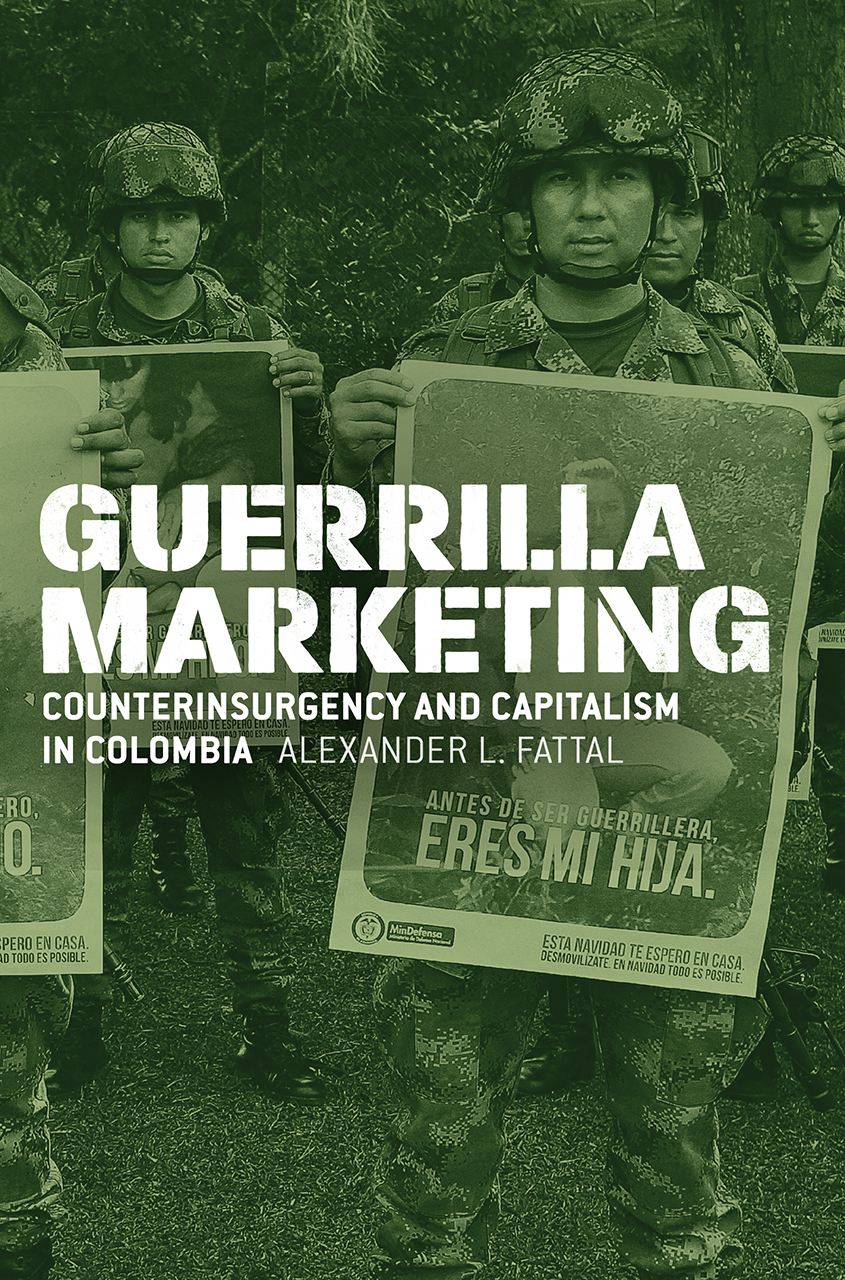 304 pages | 33 halftones | 6 x 9 | © 2018
Brand warfare is real. Guerrilla Marketing details the Colombian government's efforts to transform Marxist guerrilla fighters in the FARC into consumer citizens. Alexander L. Fattal shows how the market has become one of the principal grounds on which counterinsurgency warfare is waged and postconflict futures are imagined in Colombia. This layered case study illuminates a larger phenomenon: the convergence of marketing and militarism in the twenty-first century. Taking a global view of information warfare, Guerrilla Marketing combines archival research and extensive fieldwork not just with the Colombian Ministry of Defense and former rebel communities, but also with political exiles in Sweden and peace negotiators in Havana. Throughout, Fattal deftly intertwines insights into the modern surveillance state, peace and conflict studies, and humanitarian interventions, on one hand, with critical engagements with marketing, consumer culture, and late capitalism on the other. The result is a powerful analysis of the intersection of conflict and consumerism in a world where governance is increasingly structured by brand ideology and wars sold as humanitarian interventions.
 
Full of rich, unforgettable ethnographic stories, Guerrilla Marketing is a stunning and troubling analysis of the mediation of global conflict.
 
Review Quotes
New Yorker
"A sobering book on how armies burnish their brands. . . a detailed, eye-opening investigation."
Philippe Bourgois, author of In Search of Respect: Selling Crack in El Barrio
"A remarkable ethnography."
ReVista: Harvard Review of Latin America
"Guerrilla Marketing is a fascinating book that illustrates how the government's turn to marketing blurred the boundaries between war and peace by penetrating deep into the emotional space of insurgents and their families. It is a well-written account that intersperses analytic chapters with the author's riveting interviews with FARC insurgents, which offer a view into how the rebels understand what has happened to themand sidesteps PAHD propaganda. The book should be read by anyone trying to understand contemporary Colombian society."
Jon Lee Anderson, author of Che Guevara: A Revolutionary Life
"Guerrilla Marketing is a fascinating examination of how commercial-style branding has been deployed by both rebels and the state in Colombia's civil war. Fattal deserves high praise for his extraordinary research, carried out over many years in the edgy and borderless terrain of the war's periphery. His insights are lucid and the stories he tells are haunting. This book is a must-read for scholars of modern conflict, journalists, and diplomats."
Winifred L. Tate, author of Drugs, Thugs, and Diplomats
"Guerrilla Marketing is a poignant and theoretically innovative ethnography imbued with Fattal's dynamic, compelling voice. This book is a significant contribution to studies of Colombia and the complexities of the human experiences of conflict, insurgency, and demobilization."
Jean Comaroff, coeditor of The Politics of Custom
"This is a scintillating study: a surprising story of how Colombia deployed the power of advertising to counter armed conflict, and turned to the magic of branding to make counterinsurgency seem like a humanitarian enterprise. Not only does Fattal give a riveting account of how the Colombian state became an unlikely pacesetter in the business of peacemaking; he illuminates the growing salience of consumer marketing to statecraft everywhere in the twenty–first century world."
Michael Taussig, author of Palma Africana
"Now that the hyped Colombian 'peace agreement' lies in tatters, Fattal's meticulously detailed book is not only timely but theoretically refreshing and politically astute. Combining peasant stories of life in the guerrilla with a top-down view of media manipulation, it opens us up to novel understandings of the use of images and the power of anthropology."
Daniel Hoffman, author of The War Machines: Young Men and Violence in Sierra Leone and Liberia
"The brilliance of Guerrilla Marketing lies in the way it reads the intertwining of war and the strategies of contemporary capital."
Rebecca Stein, author of Digital Militarism: Israel's Occupation in the Social Media Age
"Fattal's richly detailed ethnography—dizzyingly so, at times—foregrounds the question of how statecraft is transformed through the neoliberal injunction to "brand yourself." … His work brings us to the site of these spectacles—amazing the reader, over and over again, of how this then–Harvard Ph.D. student had this kind of access, behind the scenes, to the theater of statecraft. But Guerrilla Marketing is perhaps most powerful offstage, in the corporate boardrooms and over brunch where … the script for Colombia's heavily mediatized and consumer-oriented counterinsurgency was being drafted by ad executives, in collaboration with the state."
Andrés Romero, co-editor of the Cultural Anthropology's Visual and New Media Review
"Guerrilla Marketing as an ethnographic study is not simply one of the unimagined vertical leaps into the worlds of the highly professional, but instead it is a work compiled by rhizomatic maneuvers in disparate, multi-dimensional folds, illustrating not just access to multiple kinds of actors in Colombia's armed conflict from various scales—but the slow weaving of depth and breadth, the rapport and intimacy that could only be built out of the work of time."
Narges Bajoghli, author of Iran Reframed: Anxieties of Power in the Islamic Republic
"Fattal's book is not only important for those who study Colombia and Latin America, nor just for those who are anthropologists of media, but also for those who work on questions of the state, militaries, the 'war on terror,' and the Middle East more broadly."
Sebastián Ramírez-Hernández
"Colombia's more than half a century of war has produced no shortage of accounts and analysis, yet Alexander L. Fattal's Guerrilla Marketing accomplishes the increasingly rare feat of opening a new and productive conversation about the conflict."
Nayanika Mathur, author of Paper Tiger: Law, Bureaucracy, and the Developmental State in India
"A superbly-written and utterly brilliant monograph."
Shirley Lindenbaum, author of Kuru Sorcery: Disease and Danger in the New Guinea Highlands
"Guerrilla Marketing was a revelation about the extent to which consumer marketing has found a place in the Colombian government's strategy to make counterinsurgency seem humanitarian."  
Kathleen McCaffrey, author of Military Power and Popular Protest: The U.S. Navy in Vieques, Puerto R
"Guerrilla Marketing: Counterinsurgency and Capitalism in Colombia quite simply is a tour de force."
Colombia Section, Latin American Studies Association: Michael Jimenez Prize
Finalist

American Ethnological Society: Sharon Stephens First Book Prize
Won

Society for Latin American and Caribbean Anthropology: Society for Latin American and Caribbean Anthropology Book Prize
Honorable Mention

View
Recent Awards
page for more award winning books.
For more information, or to order this book, please visit https://www.press.uchicago.edu
Google preview here