---
Ciaran Carson
Space, Place, Writing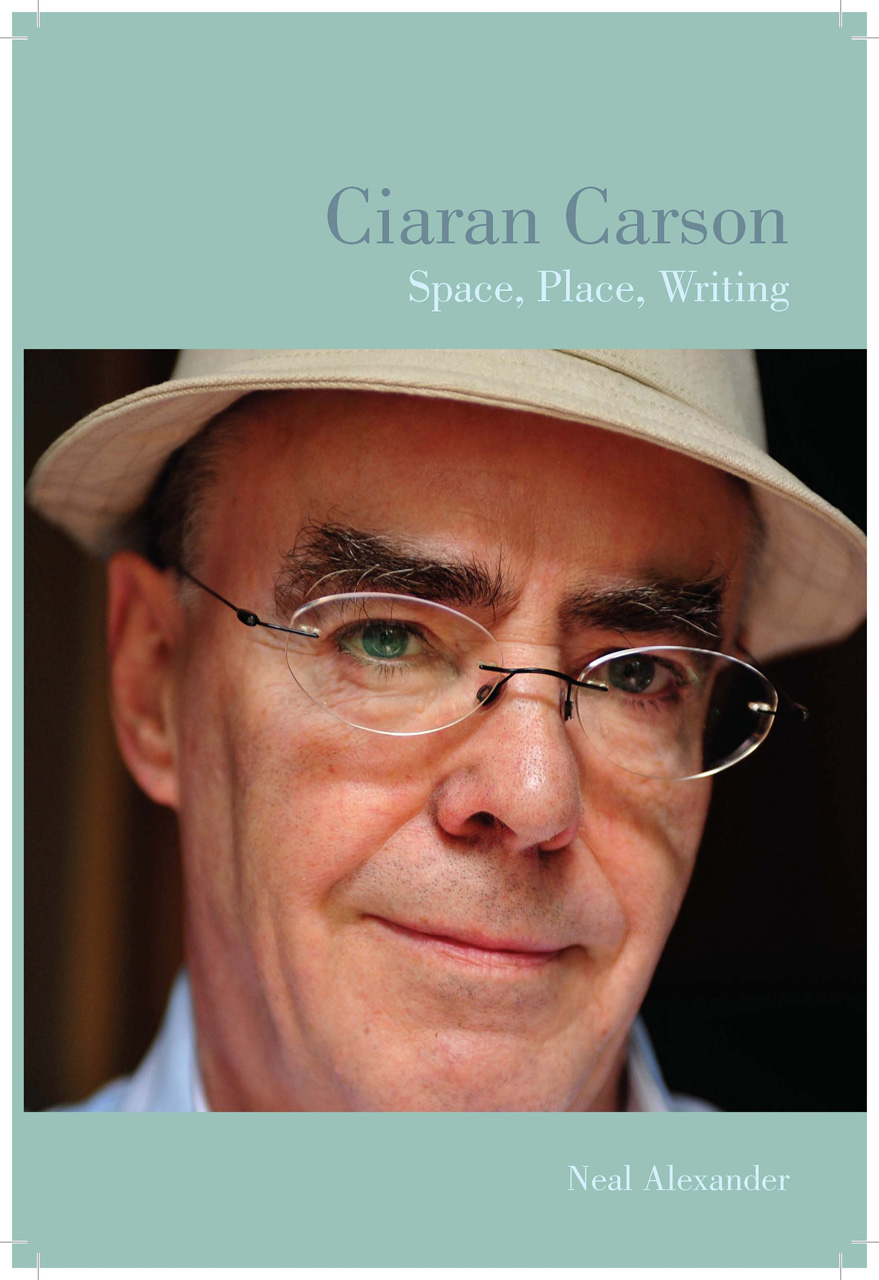 A PDF version of this book is available for free in open access via the OAPEN Library platform.  Please click
here
for a free copy.
Distributed for Liverpool University Press
237 pages | 6 x 9 | © 2010
Ciaran Carson is one of the most challenging and inventive of contemporary Irish writers, exhibiting verbal brilliance, formal complexity, and intellectual daring across a remarkably varied body of work. With his birthplace and hometown of Belfast as a recurrent—and often gritty—frame of reference, Carson engages the themes of history, geography, violence, and power. In this in-depth study, Neal Alexander employs urbanism, cultural theory, and literary criticism to decipher the ways in which Carson imaginatively navigates the ideas of space and place. A truly groundbreaking book and a new critical framework for exploring literary representations of space, this is the first study to consider the entire Carson canon, including poetry, prose, and translation. 
John Goodby, University of Swansea
"A model of its kind, easily the best thing on Carson, and one of the finest recent books on any Irish poet. It blends theory and close reading very well and wears its learning lightly and stylishly."—John Goodby, University of Swansea
Elmer Kennedy-Andrews, University of Ulster
"This is clearly the work of someone who has long immersed himself in Carson's writings and has an intimate knowledge of the contexts—spatial, literary, social, historical, and biographical—which have shaped them. The effective balance which is maintained between giving the reader a sense of the 'big picture' and offering close, detailed, brilliantly insightful readings of carefully selected poems/prose passages is one of the special strengths of this book. Through its comprehensive coverage of Carson's proliferating oeuvre, its meticulous research, and carefully nuanced argumentation, Ciaran Carson: Space, Place, Writing makes a significant contribution to the consiolidation and development of theoretical and critical thinking about Carson in particular, and contemporary Northern Ireland poetry more generally."
Choice
"The first monographic work on Irish poet Ciaran Carson, this book provides an extended framework for understanding Carson's entire body of works. Highly recommended."—Choice
Contents
Acknowledgements
Abbreviations
Introduction

Chapter 1:   Imaginative Geographies: The Politics and Poetics 
                   of Space
Chapter 2:   Mapping Belfast: Urban Cartographies
Chapter 3:   Deviations from the Known Route: Reading, Writing, Walking
Chapter 4:   Revised Versions: Place and Memory
Chapter 5:   Spatial Stories: Narrative and Representation
Chapter 6:   Babel-babble: Language and Translation

Bibliography
General Index
Index of Works
For more information, or to order this book, please visit http://www.press.uchicago.edu
Google preview here
Literature and Literary Criticism: Poetry