---
Making Marie Curie
Intellectual Property and Celebrity Culture in an Age of Information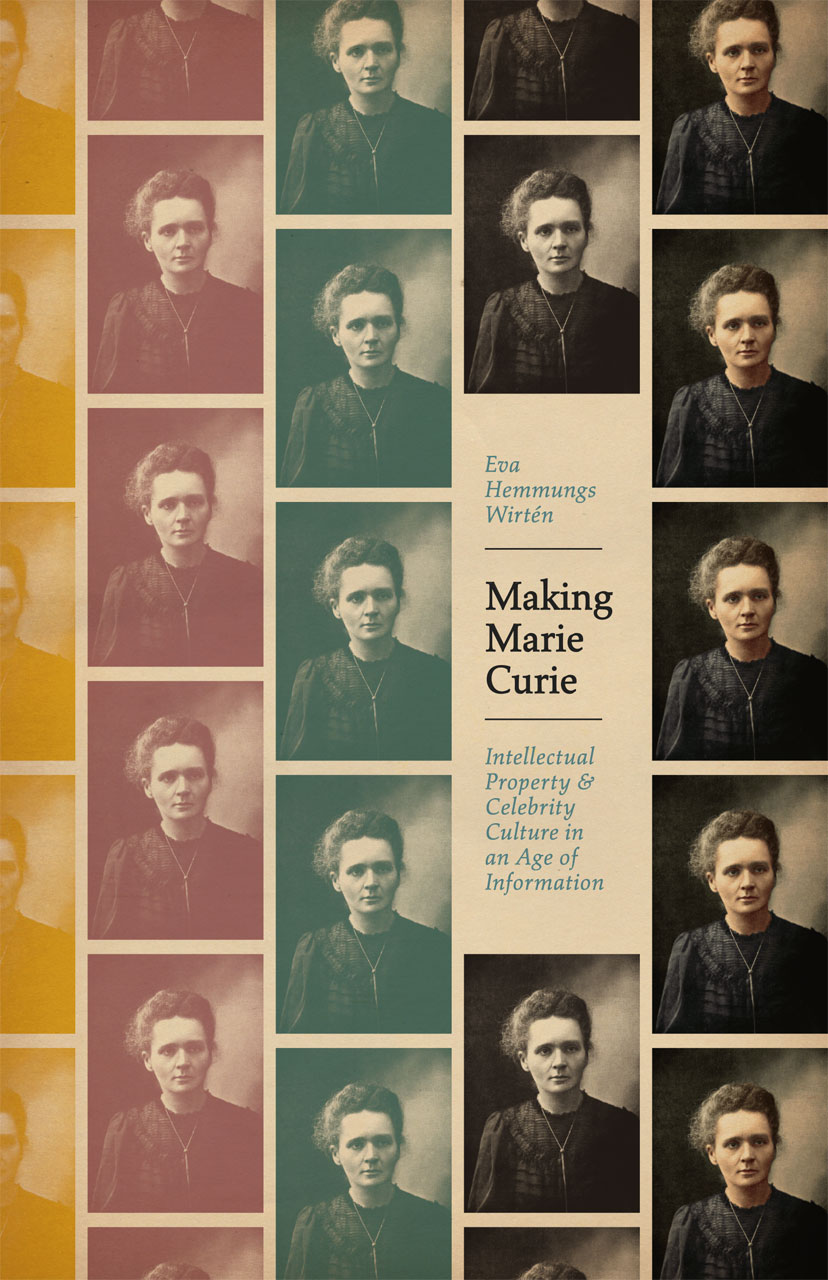 248 pages | 4 halftones | 5 1/2 x 8 1/2 | © 2015
In many ways, Marie Curie represents modern science. Her considerable lifetime achievements—the first woman to be awarded a Nobel Prize, the only woman to be awarded the Prize in two fields, and the only person to be awarded Nobel Prizes in multiple sciences—are studied by schoolchildren across the world. When, in 2009, the New Scientist carried out a poll for the "Most Inspirational Female Scientist of All Time," the result was a foregone conclusion: Marie Curie trounced her closest runner-up, Rosalind Franklin, winning double the number of Franklin's votes. She is a role model to women embarking on a career in science, the pride of two nations—Poland and France—and, not least of all, a European Union brand for excellence in science.

Making Marie Curie explores what went into the creation of this icon of science. It is not a traditional biography, or one that attempts to uncover the "real" Marie Curie. Rather, Eva Hemmungs Wirtén, by tracing a career that spans two centuries and a world war, provides an innovative and historically grounded account of how modern science emerges in tandem with celebrity culture under the influence of intellectual property in a dawning age of information. She explores the emergence of the Curie persona, the information culture of the period that shaped its development, and the strategies Curie used to manage and exploit her intellectual property. How did one create and maintain for oneself the persona of scientist at the beginning of the twentieth century? What special conditions bore upon scientific women, and on married women in particular? How was French identity claimed, established, and subverted? How, and with what consequences, was a scientific reputation secured?

In its exploration of these questions and many more, Making Marie Curie provides a composite picture not only of the making of Marie Curie, but the making of modern science itself.
Table of Contents
Contents
Introduction
 
1          Me, Myself, I: In the Interest of Disinterestedness
 
2          Scandal, Slander, and Science: Surviving 1911
 
3          The Gift(s) That Kept on Giving: Circulating Radium and Curie
 
4          Intellectuals of the World, Unite! Curie and the League of Nations
 
Epilogue
 
Acknowledgments
 
Notes
 
Bibliographic Essay
 
Index
Review Quotes
Library Journal
2015 Editors' Spring Pick

"Hemmungs Wirtén explores how the most recognized female scientist managed her 'brand.' In shaping her public persona, Marie Curie (1867–1934) had to balance not only her roles as researcher and wife and mother but also issues of nationalism and an agenda that straddled the pure and applied sciences."
Evan Hepler-Smith | Wall Street Journal
"In Making Marie Curie, Eva Hemmungs Wirtén shows how biographers and polularizers, including Curie herself, fashioned the woman born Marya Sklodowska in 1867 into an enduring scientific persona. . . . If the legend of Marie Curie represents the aspirations of modern science, Making Marie Curie shows how a diverse range of people, from biographers to philanthropists to Curie herself, created these aspirations in the first place."
Daniel Cressey | Nature
"Marie Curie remains the most famous of female scientists. In the analysis of how the co-discoverer of radium became uniquely idolized, cultural scholar Eva Hemmungs Wirtén uses the prisms of celebrity and intellectual property—Curie and her husband, Pierre, having famously refused to patent radium. Wirtén's picture of a scientist carefully shaping her own image is less angelic than the traditional view of Curie, but might have much to teach her modern successors."
Robyn Arianrhod | Times Higher Education
"In light of current constraints on research funding, and the debate over who should pay for scientific and other content, Wirtén's excellent account of the complexity of the 1930s intellectual property debate is timely. . . . Using Curie as the vehicle for discussion on all the themes in this thought-provoking book is a strategy that enables Wirtén to draw a far more complex portrait than that of the legendary wife patiently stirring radioactive pitchblende, content to remain in her husband's shadow."
Raizel Liebler, Harvard University | The Learned Fangirl
"Fascinating--delving into issues including but not limited to public versus private persona, intellectual property, decisions surrounding whether to patent inventions, women's rights and autonomy, and French and American laws. Perhaps the only good way to describe this book is as a book you didn't know you wanted to read. . . . A fascinating book that would be great for history of science, history of intellectual property, and intellectual property survey classes."
Carla Nappi | New Books in Science, Technology, and Society
"A compellingly argued book that's also a pleasure to read."
Charles Thorpe, University of California, San Diego
"Making Marie Curie is an impressive and well-written study that will be of broad interest beyond professional historians. Richly sourced and referenced, this book sheds new light on the personal and professional lives of the Curies, raising fascinating questions of the parenting and ownership of radium and providing a new angle on the Curies' career that is sure to provoke debate."
Adrian Johns, University of Chicago
"Making Marie Cure is a gripping account of the episodes in Marie Curie's life when her involvement with intellectual property, the press, celebrity culture, and the international management of information became especially consequential. Through these episodes, Hemmungs Wirtén traces the creation of the Curie 'brand'—a term and a legal concept that the European Union has explicitly adopted. She reveals a fascinating process through which scientific persona and publicity intersect."
For more information, or to order this book, please visit http://www.press.uchicago.edu
Google preview here