---
Lawyers in Practice
Ethical Decision Making in Context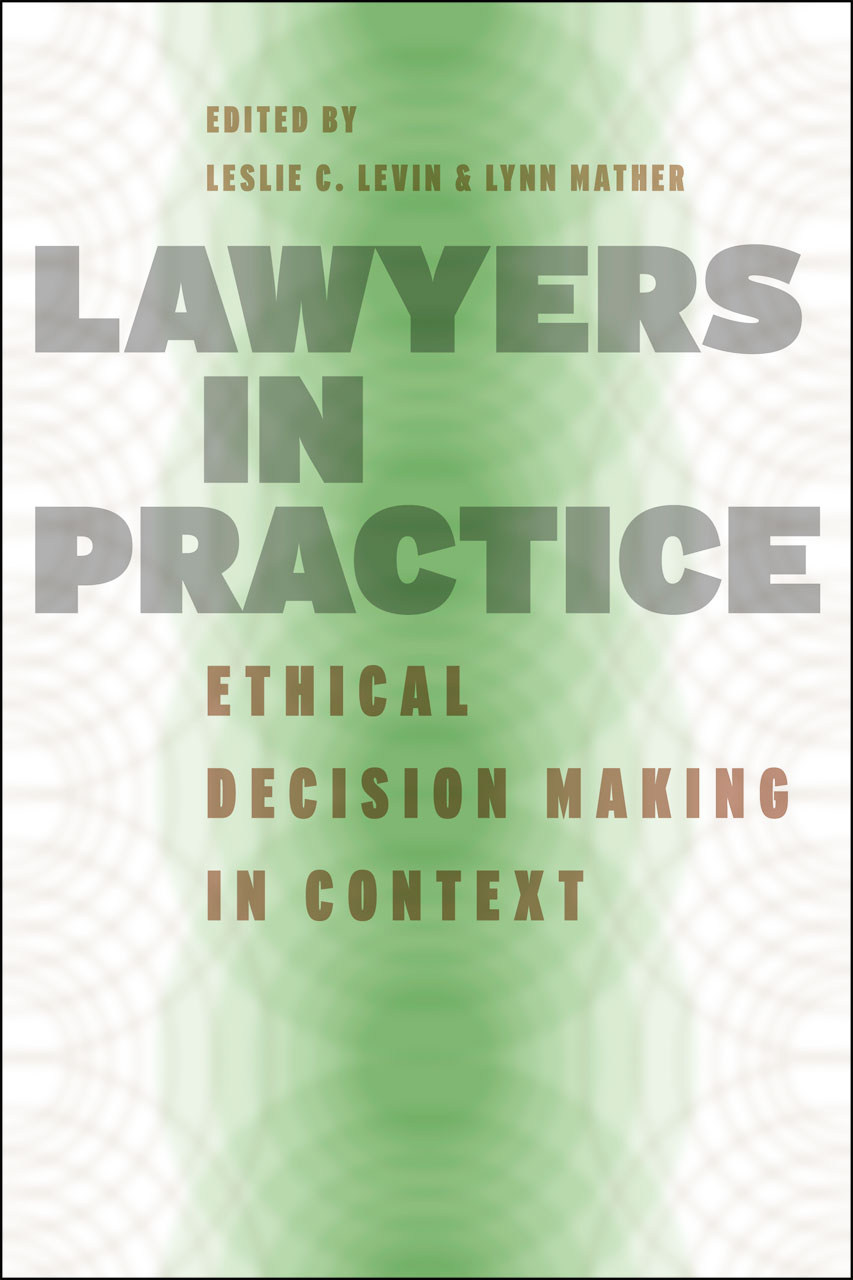 392 pages | 2 line drawings, 2 tables | 6 x 9 | © 2012
How do lawyers resolve ethical dilemmas in the everyday context of their practice? What are the issues that commonly arise, and how do lawyers determine the best ways to resolve them? Until recently, efforts to answer these questions have focused primarily on rules and legal doctrine rather than the real-life situations lawyers face in legal practice.

The first book to present empirical research on ethical decision making in a variety of practice contexts, including corporate litigation, securities, immigration, and divorce law, Lawyers in Practice fills a substantial gap in the existing literature. Following an introduction emphasizing the increasing importance of understanding context in the legal profession, contributions focus on ethical dilemmas ranging from relatively narrow ethical issues to broader problems of professionalism, including the prosecutor's obligation to disclose evidence, the management of conflicts of interest, and loyalty to clients and the court. Each chapter details the resolution of a dilemma from the practitioner's point of view that is, in turn, set within a particular community of practice. Timely and practical, this book should be required reading for law students as well as students and scholars of law and society.
Richard Abel, UCLA School of Law
"With Lawyers in Practice, Leslie C. Levin and Lynn Mather break new ground. This is the first book to locate the ethical and unethical behavior of lawyers in details of their many varied practice contexts; the contributors make a convincing case that we can only understand lawyers' behavior contextually. Very thorough, illuminating, and persuasive."
Sanford Levinson, University of Texas Law School
"This outstanding collection of essays on the actualities of legal practice in a variety of contexts is an important complement—and in many ways a corrective—to the perception of the bar as sufficiently undifferentiated to make a single "Code of Responsibility" a truly sensible enterprise. I think this will be of great interest to any scholar in the field precisely because it fleshes out, with vivid concrete examples and interviews, the implications of the fact that the bar is highly fragmented."
Law and Politics Book Review
"This very interesting edited volume is one of the first books to examine lawyers' ethical decision making in a variety of practice settings and through empirical research. I know of very few collections that examine so many different types of lawyer practice. This volume will become a very important contribution to the literature in this field of study."
Choice
"An ambitious and important book that seeks to move the study of lawyers' ethics from the realm of theory to an appreciation of the empirical world of decision making. Highly recommended."

Kathleen E. Hull | Law and Society Review
"Lawyers in Practice is an excellent and important addition to the existing resources on the ethical conduct of lawyers. It offers nuanced and textured analyses of lawyers' decisionmaking with regard to issues of ethics and professional identity, using the lens of the contexts in which lawyers practice to frame the discussion. The work is supported by both qualitative and quantitative empirical research that provides richly detailed and convincing backdrops for examining ethical conduct."

Contents
Preface
Contributors
Part I. Introductory Perspectives on Ethics in Context
Chapter 1  Why Context Matters
Lynn Mather and Leslie C. Levin
Chapter 2 Some Realism about Legal Realism for Lawyers: Assessing the Role of Context in Legal Ethics
David B. Wilkins
Chapter 3 Whose Ethics? The Benchmark Problem in Legal Ethics Research
Elizabeth Chambliss

Part II. Decision Making in Communities of Legal Practice
Family and Immigration
Chapter 4 Client Grievances and Lawyer Conduct: The Challenges of Divorce Practice
Lynn Mather and Craig A. McEwen
Chapter 5 Immigration Lawyers and the Lying Client
Leslie C. Levin
Personal Injury
Chapter 6  Plaintiffs' Lawyers and the Tension between Professional Norms and the Need to Generate Business
Stephen Daniels and Joanne Martin
Chapter 7 Betwixt and Between: The Ethical Dilemmas of Insurance Defense
Herbert M. Kritzer
Corporate Settings
Chapter 8 The Ethics of Constructing Truth: The Corporate Litigator's Approach
Kimberly Kirkland

Chapter 9   Transnational Lawyering: Clients, Ethics, and Regulation
John Flood

Chapter 10  The Ethics of In-House Practice
Sung Hui Kim
Corporate Specialties
Chapter 11 The Ethical Lives of Securities Lawyers
Patrick Schmidt

Chapter 12 Scientists at the Bar: The Professional World of Patent Lawyers 
John M. Conley and Lynn Mather
Criminal Law
 
Chapter 13 Prosecutors' Ethics in Context: Influences on Prosecutorial Disclosure
Ellen Yaroshefsky and Bruce A. Green
Chapter 14  Reinterpreting the Zealous Advocate: Multiple Intermediary Roles of the Criminal Defense Attorney
Nicole Martorano Van Cleve
Public Interest Lawyers
Chapter 15  Legal Services Lawyers:  When Conceptions of Lawyering and Values Clash
Corey S. Shdaimah
Chapter 16 The Accountability Problem in Public Interest Practice: Old Paradigms and New Directions
Scott L. Cummings
Epilogue
Index
For more information, or to order this book, please visit http://www.press.uchicago.edu
Google preview here