---
Battleground Chicago
The Police and the 1968 Democratic National Convention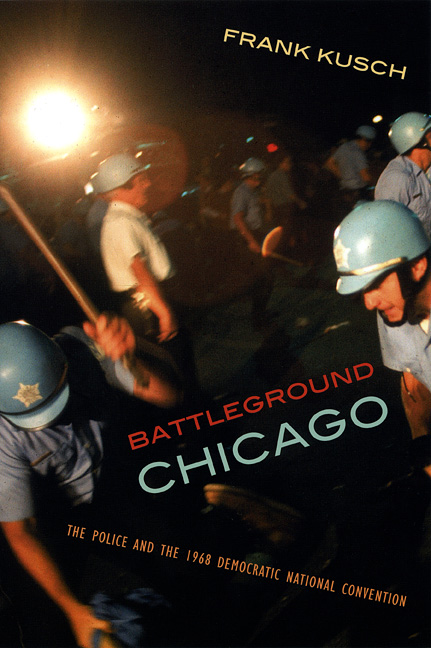 224 pages | 11 halftones, 3 maps | 6 x 9 | © 2004
The 1968 Democratic Convention, best known for police brutality against demonstrators, has been relegated to a dark place in American historical memory. Battleground Chicago ventures beyond the stereotypical image of rioting protestors and violent cops to reevaluate exactly how—and why—the police attacked antiwar activists at the convention.
            Working from interviews with eighty former Chicago police officers who were on the scene, Frank Kusch uncovers the other side of the story of '68, deepening our understanding of a turbulent decade.
 
"Frank Kusch's compelling account of the clash between Mayor Richard Daley's men in blue and anti-war rebels reveals why the 1960s was such a painful era for many Americans. . . . to his great credit, [Kusch] allows 'the pigs' to speak up for themselves."—Michael Kazin
 
"Kusch's history of white Chicago policemen and the 1968 Democratic National Convention is a solid addition to a growing literature on the cultural sensibility and political perspective of the conservative white working class in the last third of the twentieth century."—David Farber, Journal of American History
Choice
"This retelling of a well-known story is significant partly for its detail and objectivity, but mostly because the author focuses on telling the story from the perspective of the police rather than the protesters. . . . Highly recommended."
Journal of American History
"Kusch's history of white Chicago policemen and the 1968 Democratic National Convention is a solid addition to a growing literature on the cultural sensibility and political perspective of the conservative white working class in the last third of the twentieth century."
History
"A fascinating story unfolds, of family-oriented cops recruited from white ethnic communities confronting middle-class 'longhairs'; of both the police and the activists able to perceive one another only as stereotypes . . . of the cumulative and destructive mutual antipathy between police and press."
Contemporary Sociology
"Masterful. . . . Kusch's interviews contribute invaluable material to one wishing to decipher and make theoretical sense of what happened in Chicago during the 1968 Convention."
Julia Keller | Chicago Tribune
"Battleground Chicago is especially valuable because it lets the police officers involved in the riots in Lincoln and Grant Parks have their say."
Contents
Preface to the Paperback Edition
Preface
Timeline

1. "An American City": The Roots of a Creed
2. "Freaks, Cowards, and Bastards": The War at Home
3. "What's America Coming To?": January--June 1968
4. "On to Chicago": Countdown to August
5. "A Perfect Mess": Convention Week
6. "Terrorists from Out of Town": Fallout in the Second City
7. "Half the Power of God": Chicago in '68 Revisited

Conclusion
Notes
Bibliography
Index
Photo essay follows chapter 5.
For more information, or to order this book, please visit http://www.press.uchicago.edu
Google preview here